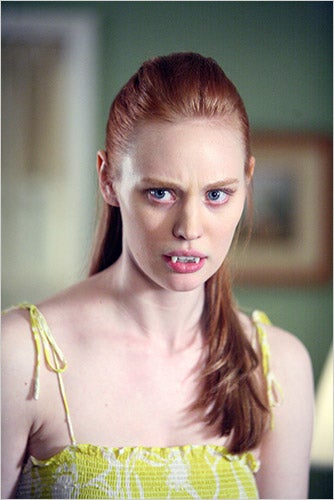 Today's New York Times has a "Thursday Styles" section story about a "trend with teeth": Vampires.
Ruth La Ferla references True Blood and Let The Right One In and writes:
What began with the Twilight Saga, the luridly romantic young-adult series by Stephenie Meyer, followed by Twilight, the movie, has become a pandemic of unholy proportions.
For Spike's sake: Vampire lust did not "begin" with Twilight. While La Ferla acknowledges the 1983 film The Hunger, the Sookie Stackhouse books penned by Charlaine Harris, and upcoming "supernatural action film" Blood: The Last Vampire (which looks awesome) — her underlying question is: Why? Why the pop culture obsession with vampires? La Ferla gets this:

The vampire's attraction is "all about the titillation of imagining the monsters we could be if we just let ourselves go," suggested Rick Owens, a fashion bellwether whose goth-tinged collections sometimes evoke the undead. "We're all fascinated with corruption, the more glamorous the better" and, he added, with the idea of "devouring, consuming, possessing someone we desire."
But in a new interview with True Blood series creator Alan Ball, he says: "Vampires are sex. Vampires basically arose in our time as a metaphor for sex. I mean, vampires are sort of the ultimate Romantic rock star, bad boy or girl fantasy." And: "I can't really talk that much about Twilight because I haven't read any of the books and I didn't see the movie. I personally don't really understand why you would have vampires in a something that is basically about abstinence."
Okay, sure, vampires are about unleashing your inner monster, sex and desire. But most famous vampire stories involve bloodsucking males preying on females. In this chart illustrating the "basics" of being a vampire, there's Bill from True Blood; Edward from Twilight and Angel from Buffy. Bloodsucking is a boy's world. Maybe that's why that the epic clip of Buffy prevailing over Edward Cullen is such refreshing turn of events. Jonathan McIntosh, who created the clip, says: