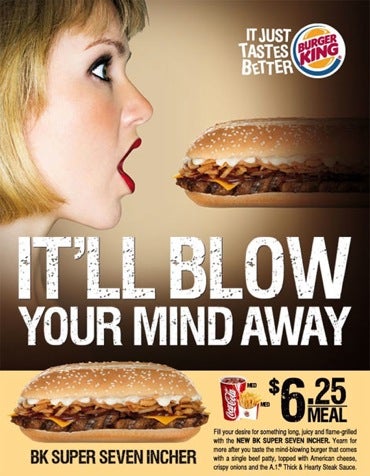 Oh brother. "It'll blow your mind away," reads this new and annoying ad (via Singapore) from Burger King, which illustrates rather explicitly the link between food and sex, but in the most disturbing way.
Under the image of a woman in profile with her mouth wide open, staring blankly at something in the distance above an approaching seven-inch burger, the ad reads:
Fill your desire for something long, juicy and flame-grilled with the NEW BK SUPER SEVEN INCHER. Yearn for more after you taste the mind-blowing burger that comes with a single beef patty, topped with American cheese, crispy onions and the A.1. Thick & Hearty Steak Sauce.
This ad does not just hint at sex, it bashes you over the head with lame puns and heavy-handed double entendres worthy of the Todd. To make matters worse, the woman about to receive the "hot beef injection," as one commenter here put it, is made up to look like a blow-up doll. She is expressionless, a blank slate on which we are supposed to project our (assumed to be masculine, of course) desires. Unlike the "2 Girls 1 Sub" video from Quiznos, which is its very own brand of nasty, or the new Burger King ad with Audrina Patridge, or even that Carls Jr. ad, the woman here is not excited about the giant sandwich looming near her face. She is empty and submissive, as pliable as a plastic doll. Strangely enough, it doesn't make us very hungry.