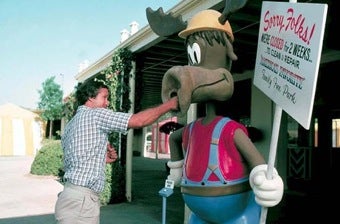 I was supposed to be a boy. The doctor had told my mother to expect a small blob with male bits in early 1981, based on some wacky 80s unscientific guesstimation that apparently did not include an actual sonogram. Whoops!
My parents had everything ready for my arrival: blue clothes, blue blankets, a male name, and, I'm sure, as far as my father was concerned, dreams of basketball games and little league games and fishing trips or whatever it is that fathers typically do with their sons. But their second daughter was born instead, and two years later, their third, leaving my father as a sort of bizarro Mike Brady, with three very lovely girls.
I write about my dad a lot, mostly because my dad is hilarious, and is pretty much a real-life version of Clark Griswold (if Clark Griswold had a Star Wars obsession). We have bonded over music and we communicate primarily through jokes from movies, and my dad is one of the few people in the world who can consistently make me laugh.