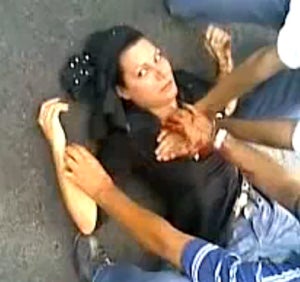 On Saturday, "Neda", a young Iranian woman watching the protests in Tehran, was allegedly shot by a Basij, dying in her father's arms. It was captured on video. Some say she may be the new face of the opposition movement.


The video, which was taken right after Neda was gunned down - she was reportedly shot in the heart - is below. It is extremely graphic and very upsetting — a more graphic version is on Facebook - providing a snapshot of life, and death, that is quickly becoming an iconic image for some Iranians, and, our headline attests (the phrase is popping up on posts all over Twitter), a rallying cry for people around the world.


The Iranian election was considered especially important to the country's female population and women have been some of the more visible protesters, even as the the situation has become increasingly violent and dangerous. From pictures on Flickr to images on blogs to citizen reporters on Demotix, images of women of all shapes, sizes, ages and styles are becoming the more-friendly face of the movement for government change. Instead of just men hurling rocks and being beaten (and killed) and standing, congested with tear gas, in front of burning cars, we are viewing the violence perpetrated by the state and its agents against women, some of whom are shown with rocks in their hands... and others, like Neda, innocent of anything other than a desire to make themselves heard.