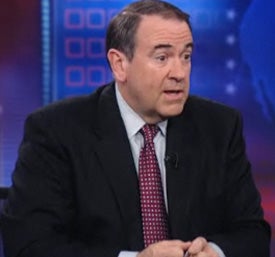 Mike "Huckles" Huckabee made his second appearance on The Daily Show last night, holding Jon Stewart to his promise that he'd allow Huckabee to pick the topic. Huckabee chose abortion; Stewart broke out the booze.
The interview, which lasted nearly twenty minutes, was heavily edited for broadcast, so Stewart encouraged people to watch it in its entirely on the site. It's broken up (relatively poorly) into three segments.


<td style='padding:2px 1px 0px 5px;' colspan='2'Mike Huckabee Extended Interview Pt. 1


In this first segment, Huckabee states that his position on abortion comes down to his respect for human life and his belief that every human life has value. If you're curious, Huckabee — by his own admission — authorized more executions than any other governor in Arkansas' history. When asked to explain his feelings about executions, he said:
I authorized other executions after that one, but it never became easier. If it had, there would have been something wrong with me or the process. To this day I am confident that I did the right thing—"right" defined against moral absolutes in the midst of an imperfect world.
He added that he felt that God, not taxpayers, should judge his actions.
Stewart asked Huckabee if he really believes that pro-choice advocates don't value life. Huckabee agreed that they're not necessarily callous, but that they haven't thought their position through enough.
For example, if we tell the generation coming up after us that it is okay to take a human life because that life represents to us an interference or an interruption to our lives, either economically, or socially, or whatever the reason — and, by the way, 93 percent of abortions are elective abortions. It has nothing to do with the health of the mother, it has nothing to do with the health of the baby, and it's not a matter of rape...
Actually, Huckabee is completely incorrect on that last point — abortions in the case of rape and incest are still generally classified as elective abortions. But, more to the point, Huckabee has also made a great argument against the death penalty, which he supports and acted out.
Huckabee goes on to make the argument that life begins at conception, and that, since a fetus is a cluster of human-DNA- containing cells (and not another species) it is therefore a human life. His final point is that he wouldn't want his children to be able to determine his life in old age based on their convenience.
I do not want to give my kids the opportunity to say, "Dad, you are an interference. Coming to see you in the nursing home is messing up my social life. You are very expensive, Dad. Your long term care bill is breaking us."
Yeah, no shit Huckabee doesn't want his kids determining his fate — at age 18, his son David found a skinny dog with a rash, tortured it and hung it at a Boy Scout camp to "put it out of its misery." Stewart, thankfully, pointed out there's a bit of a difference because Huckabee wouldn't be living inside the bodies of his children.
<td style='padding:2px 1px 0px 5px;' colspan='2'Mike Huckabee Extended Interview Pt. 2


In segment 2, Huckabee and Stewart got into the current debate about abortion reduction. Huckabee went straight to the idea of parental notification — because, as is the anti-abortion movement's biggest canard, if you can prevent access to abortion, you're preventing abortion, full stop. Who cares about preventing unwanted pregnancies, if you can just force women to keep the babies?
Stewart countered with the crazy idea that maybe women don't want the government telling them what they can — and what they should have to — do with their bodies. Huckabee had an answer for that, though.
See, Jon, I don't know of a pro-life person that believes if the mother's physical health is in jeopardy that you just let the mother die in order to save the child. Your ideal would be to save both.
For one thing, in fact, there are plenty of people in the anti-abortion movement who deny the fact that pregnancy carries dangers for the mother or that, when it does, abortion is truly justified — Amanda Marcotte found that out from one of the movement's campus advocacy handbooks not too long ago. For two, the GOP's own Presidential candidate dismissed the idea that abortion could be necessary for the health of the mother in a televised debate less than a year ago with a spectacular application of "dick fingers." So, actually, there are plenty of people in the anti-abortion movement who could give a shit about the health of the mother.