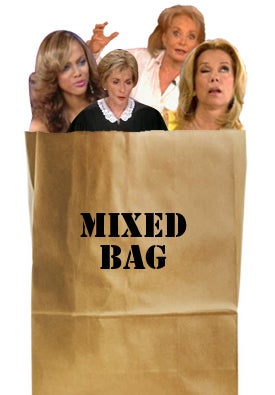 Many weeks, we come across stupid stuff on TV that might fall through the cracks. In Mixed Bag, we collect those odds and ends, for a multimedia compilation of pop culture crap.


1.) What's baby oil made from?



2.) What's propitious?



3.) Brain Babies
They're scary!



4.) People in the New York metro area love misery, as indicated by the most popular stories on the local news.

5.) Brooke Hogan thinks she looks hot as a lesbian. Others disagree.



6.) Bravo aired deleted scenes from the infamous "prostitution whore" finale of Real Housewives of New Jersey. We learned a lot of new things, like GL Juicy J (gays love Juicy Joe).



And we learned that linoleum floors are not desirable in the Garden State.