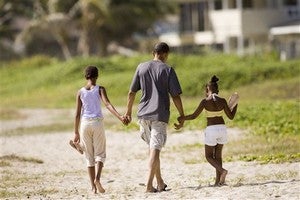 In an excerpt of an essay in the upcoming issue of Parade magazine (full text available Sunday), Barack Obama talks about what it means to be a dad.
Obama, who will also devote much of his day today to kicking off a White House initiative to promote fatherhood, says that growing up without his own father made him more committed to being a good dad himself. He writes,
In many ways, I came to understand the importance of fatherhood through its absence-both in my life and in the lives of others. I came to understand that the hole a man leaves when he abandons his responsibility to his children is one that no government can fill. We can do everything possible to provide good jobs and good schools and safe streets for our kids, but it will never be enough to fully make up the difference.
The excerpt concludes with a sweet anecdote about driving Malia home from the hospital when she was a newborn. Obama says, "I think about the pledge I made to her that day: that I would give her what I never had-that if I could be anything in life, I would be a good father." It's inspiring that we have a President who thinks of fatherhood as one of his most important jobs. But what does it mean to, as he says, "be a good father?"
In Time, Nancy Gibbs argues that a good dad is a laidback one — and that moms could learn something from dads. She writes,
when did you last read about the Daddy Wars? Men compete against one another in every arena except this one, maybe out of indifference, but more often out of humility. Most fathers I know make fun of themselves, and of the mystery of it all, as though content that being a parent is a skill you practice but never master. There is much doubt, but less guilt.
Gibbs also praises her husband's ability "to slide, with joy and mischief, into our children's world rather than drag them prematurely into ours," and suggests that women should learn to do the same. If it's true, as Gibbs implies, that men are less likely to define themselves through their children, and thus take a more relaxed, less "self-flagellating" approach to parenting, then maybe the current generation of moms, with their "Momoirs" and bad-mommy confessions, should try to be more like dads. However, fathers' perceived playfulness may result more from their rapidly changing roles than from any innate calm in the male nature. Jeremy Adam Smith, author of The Daddy Shift, says fathers are, "doing the dishes and taking care of the kids, but it doesn't match with that traditional male image, so they laugh about it. They giggle. They make jokes."
The best evidence that we are in a strange liminal period for fathers comes from writer/dads like Michael Lewis or Nick Duerden, author of The Reluctant Fathers' Club. Duerden tells the Times of London that for women, parenting is "much more instinctive." He adds,