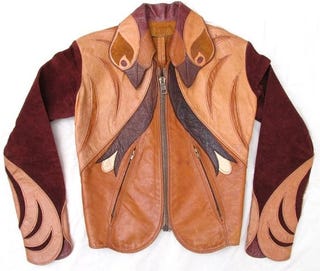 Homage, inspiration, and knock-off are adjoining territories, and not yet satisfactorily explored. Like obscenity or other great things in life, most people feel they know a rip-off when they see it. Well, take a look:
This is a "Parrot" jacket, by East West Musical Instruments, the misleadingly-named San Francisco-based specialty leather goods company that operated in the 60s, 70s and 80s. Notice how the patchwork leather on the shoulders and collar almost looks like two parrots in profile, their heads bent around the wearer's neck.
East West Musical Instruments specialized in intricately pieced jackets, and sold to the likes of Janis Joplin, Iggy Pop, and John Bonham; New York's hipster mayor, John Lindsay, even had one. These days, an East West jacket can sell for $1,000-$5,000 on eBay or at auction.
Which brings us to this jacket, presented this Monday in New York as part of Balenciaga's 2010 Resort collection.
Other bloggers have already taken note of this jacket's strong resemblance to the East West offering above.
It's not the first time Balenciaga designer Nicolas Ghesquière has been caught with his hand in the cookie jar of 70s American rock 'n' roll style. In Ghesquière's Spring, 2002, ready-to-wear collection, then Hintmag intern (and current anti-comfort activist) Sameer Reddy noticed striking similarities between Ghesquière's patchwork collection and the work of San Francisco designer Kaisik Wong, because he just happened to be looking through a book of Wong's work at the right moment. Similarities down to the placement of tassels and the shape of the patches.