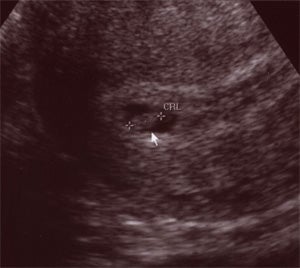 Wow: William Saletan at Slate thinks that pregnant, abortion-loving women had better think twice about calling a fetus anything other than "a baby," or else they "might" end up offing their kids.
Saletan writes:

If you talk to pregnant women or read accounts of what they say to friends and counselors, you'll notice a pattern. Those who are happy to be pregnant and expect to give birth describe what they're carrying as a baby. Those who don't want to be pregnant and are seeking or contemplating abortion avoid that word. Given the same thing at the same stage of development, we see what we want to see: a child if we want a child, an unformed embryo if we don't.

I like to think this subjective mentality is confined to the pre-viable fetus, or at least to pregnancy. But what if it isn't?
Basically, ladies, when you want to be pregnant, it's a kid and when you don't want to be pregnant, you deny that reality to enable yourself to have an abortion. It's a baby! It's always a baby! Baby baby baby! Now you'll never have an abortion. Which is good, because — as Saletan explains — aborting a fetus baby is just one short step from smothering it outside the womb.
For evidence of that, Saletan links to a Washington Post story about Véronique Courjault (who Sadie wrote about earlier this week), who is being tried in France for secretly giving birth to and then murdering shortly after their birth three children (in 1999, 2002 and 2003). Courjault — who, one assumes, is probably not quite right in the head — said this about her motives: