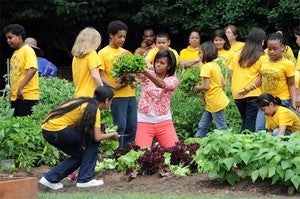 NY Times Op-Ed columnist Maureen Dowd and others in the media are all abuzz over the Obamas' mysterious and possibly subversive decision to eat both burgers and healthy foods.
According to Dowd, Barack employs a trainer, preached the importance of breakfast to the black community, and once, at a fancy restaurant, ate just one french fry. Michelle, meanwhile, invited kids yesterday to the White House vegetable garden, and helped them prepare their own baked (not fried) chicken. Yet both Obamas have been spotted at burger joint Five Guys, where evil grease soaks through the bag and into the arteries. What gives?
To her credit, Dowd recognizes that Obama may be "treat[ing] himself to fries and burgers to beef up his average-Joe image." And nutrition professor Parke Wilde tells Politico's Erika Lovely, "The pressure for politicians to eat like the common guy is part of the human condition. Eating with someone means connecting by sharing their kind of food. You can't refuse to participate in the way most people eat." Clearly, as with Michelle's cooking efforts (or non-efforts), the challenge is to set an example for Americans without alienating them.