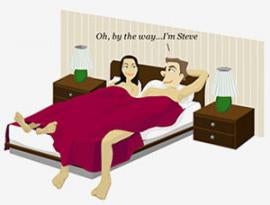 Imagine the last person you'd ever want to see writing a sex and relationships blog for twenty-something women. Is that individual hook-up propagandist and befuddled old person Laura Sessions Stepp? Then it's your unlucky day.
The just-launched site SexReally is paid for by the non-partisan National Campaign to Prevent Teen Pregnancy, and presumably intended as a slightly older companion site to the Campaign's excellent StayTeen.
It's a fine idea to set up a site for 20-somethings that deals with topics in sexuality free from the stale moralizing of adolescent sex ed, a site that could serve as a forum for discussion of, say, the rising numbers of women in their twenties who use withdrawal as a contraceptive, why that might be, and what the risks and benefits are, or the difficulties posed by the fact that 20-something women are the least likely age cohort to have health insurance, or the fact that while teen pregnancy has decreased in recent years, the rate of unplanned pregnancies among women aged 20-29 is actually growing. What beggars belief is that anyone, let alone a non-profit group of sexuality educators, would think that Laura Sessions Stepp — a woman whose nuanced theory of human sexuality begins and ends with "Don't put out unless you're in a relationship, ladies!" — could do any such topics justice.
The first podcast for SexReally is titled "Starting a Relationship With Sex: Running the Bases Backwards," which should be a clue to lead blogger and podcast producer Sessions Stepp's position on the issue at hand — as if anyone should need the hint since the former Washington Post reporter's various condemnatory anecdotes about young women and sex were collected between hard covers in 2007's Unhooked: How Young Women Pursue Sex, Delay Love and Lose at Both. (In her book, Sessions Stepp advises against relationship-free sex, and encourages kitchen fun for singletons instead. "Bake cookies, brownies, muffins. Ask your girlfriends for assistance. Guys will do anything for homemade baked goods." Girls, if you only can make enough cookies, you too can snag a man!)
Among her many other eminent qualifications for talking to young women in a balanced way about sex, Sessions Stepp is a true believer of the oxytocin junk science, a chief proponent of the late-90s teen oral sex moral panic — her reporting was flatly contradicted by actual statistics about young people's rates of oral sex — and it took her until 2006 to figure out what a "wingman" was. She also originated the term "gray rape."