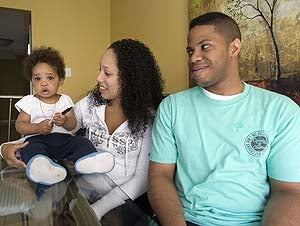 Meet Tarrah Seymour, 21, of Brampton, Ontario. She's a married college graduate with a toddler son and another on the way. Seymour and her husband are adamant that their family will be complete at four. Her OB/GYN feels otherwise.
Seymour and her husband, Adam Sylvester, met in college, fell in love, and got married. They both want to be police officers, but Sylvester, currently a security guard, is planning to stay home with their kids until they reach day-care age while Seymour works. Having their children early was always the plan — "I want to be young with them," explains Sylvester. "I want to run in the park with them, stuff like that." But so was stopping at two.
Currently five months pregnant, Seymour asked her OB/GYN, Dr. Kayode Ayodele, to perform a tubal ligation concurrently with her planned Caesarean section. Dr. Ayodele replied, "No."
And Seymour is understandably irate. "I thought we could make our own decision, with some guidance, not have the decision made for us," said Seymour. "We know what we want in life: we want two kids and then we want to start our careers. We had logical reasons behind it. He should have listened and respected that." Through her primary care physician, Seymour is still looking for an OB/GYN willing to sterilize her — but because of her age, she's been told it's a tough ask.
Young women are often discriminated against when seeking sterilization. Many doctors ask offensive questions ("What if you met a billionaire who wanted to have kids with you?"), state categorically that their patients are too young to consider the surgery, and generally act as though, as one woman who tried unsuccessfully to be sterilized at the age of 21 in the U.K. put it, "just because I was a woman, I'd reach a point where an urge to breed would overcome all rational thought." (Perhaps unsurprisingly, that woman's 25-year-old husband faced no such presumptions when he asked his doctor for a vasectomy. The procedure was quickly approved.)