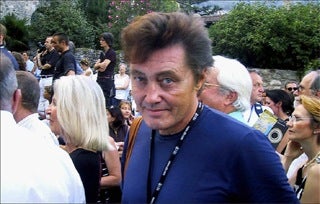 Have you ever been at a party where a man makes a really terrible remark about a woman's looks and then tries to back his sexism with bullshit analysis? Something tells me Jeffrey Wells has.
After reviewing the play reasons to be pretty, Wells decided to devote an entire post to one of the central themes of the play: the way men and women interpret the notion of someone's looks being deemed "normal." A male character in the film claims that calling his girlfiend's looks "normal," is a compliment; his girlfriend is devastated by comment and ends the relationship. Wells thinks this is pretty insane, as he believes that calling a woman "normal" looking is actually a means of implying that's she's "not as drop-dead attractive. It means that you see her face as fine, good enough, pleasant, half-there." Wells understands that many people would take this type of compliment badly, but then he attempts to make a case for "normal" looking women by attaching a letter grade to their looks: "If you substitute "normal" for a letter grade of B-plus, B, B-minus or C-plus, he writes, "you could almost see "normal" as a kind of compliment."
Of course! Because what woman doesn't love being told that she's a solid B-minus? Nothing says "compliment" quite like, "You're delightfully average looking and clearly not as attractive as other women, but A+ for effort, doll face." It gets worse: Wells declares that B-minus/C+ women make the best partners, because A women, in his eyes, are "are a handful — often with very pricey material expectations and wanting things to be as good as what they got from their well-to-do dads if not better," while B-minus women "have tasted a little rejection and have come to understand that love and relationships are a two-way street and that it's not all about them and their whims or whatever."
"By this standard women who are Cs should be even better (sweeter, kinder, fairer-minded, more spiritually resourceful, more turn-the-other-cheek) than Bs, and that C-minuses and Ds would be better still and so on," Wells writes, noting that most of his female friends are Cs and Ds and that he's always dated A minuses and B pluses.
Wells also bemoans the unattainable standards of the A woman, blaming their fathers for teaching them to treat men like dogs: "They've all been taught that all they need to do is look around and send certain signals and guys all around them will drop to their knees and start panting like dogs. Life would be heavenly and rhapsodic if women had the personality and temperament of dogs — forever loyal, non-judgmental, constantly affectionate. But that's a loser's dream."
In other words: beautiful women are all shallow bitches with daddy issues, while "average" looking women have all been beaten down in submission by having their hearts broken and coming to realize that they'll never be as gorgeous as their A grade sisters. Their low self-esteem, in turn, makes them better wives and homemakers because they've been led to believe that they don't have many choices out there, while A women can do whatever the hell they want because they're so damn pretty, and they'd make terrible partners because all beautiful women are shallow and high maintenance.
There are so many things wrong with this article that I'm not even sure where to start. First of all, the notion of "ranking" women by letter grade is typically a phenomenon reserved for high school boys and douchebags like Arthur Kade, who base everything on physical appearance (and their personal standards of beauty) without bothering to consider the person for who they are below the surface, or the notion that not everyone views beauty in the same way.