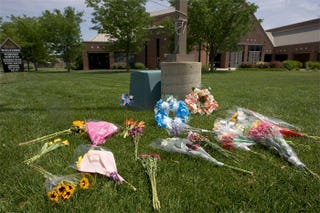 Colleen Rowley, who in 2002 criticized the FBI on its failure to follow up on would-be 9/11 hijacker Zacarias Moussaoui, now says the Bureau could have prevented George Tiller's assassination if it had investigated Scott Roeder more thoroughly.
Workers at Tiller's clinic had seen Roeder supergluing its locks a total of four times, beginning in 2000, and reported these incidents to the FBI. The FACE act, signed into law by President Clinton, makes it a federal crime to vandalize an abortion clinic. Roeder could have been prosecuted under this law, but the FBI told a clinic worker that it was unwilling to start proceedings against Roeder because this would require a grand jury and a warrant.
Rowley agrees, perhaps surprisingly, that the supergluing wasn't enough for the FBI to pay attention to Roeder. But, she says, they should have taken action once they realized that Roeder had already been arrested in 1996 with bomb-making materials in his car and the intent to blow up an abortion clinic. With this information, they could have visited Roeder's home and warned him not to come back to Tiller's clinic. Mild as this move seems, it apparently worked in 2000, keeping Roeder away from the clinic for years. It might have saved Tiller's life.
TPMmuckraker adds,
There's also a larger story here, which involves what appears to be a sharp drop off, during the Bush years, in efforts to enforce the FACE Act and otherwise to ensure the safety of abortion providers. Could the general turn by law enforcement in recent years toward a focus on Islamic and environmental terrorism, and away from right-wing terrorism, have played a role in what looks like the FBI's casual response? And is it time to rethink that shift? It's certainly worth asking.
Meanwhile, Scott Roeder awaits his trial. The man whom eyewitnesses saw shoot Tiller, and who was seen vandalizing Tiller's clinic on four occasions, and who was caught in 1996 with explosives in his car, says, ""I haven't been convicted of anything, and I am being treated as a criminal." He also says "I appreciate your prayers."