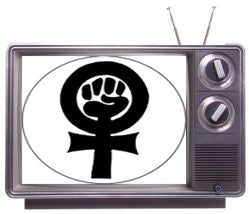 Mary Richards (The Mary Tyler Moore Show) is often noted as being the feminist icon of television. While Ms. Richards may have been a groundbreaking portrayal of a working woman, she never actually talked about being a feminist. Here, we list fictional characters who more openly flew their feminist flags.
In doing research for this, we noticed that a lot of these women had characteristics in common. Almost all of them are middle class. Many of them are educated and somewhat socially awkward. A lot of them are either nerdy, or have nerdy pasts, and can be annoying. But unfortunately, all of them — including the animated ones — are Caucasian. Worse still, only three of the females listed below are characters on shows currently on air. It's sad that in the past 30 years, feminism hasn't even managed to get two dozen recurring characters on television to admit to being part of the movement. (Again, these are pop culture characters who spoke openly about being feminists or feminism; however, if, over the course of our research we overlooked/couldn't find someone you think should be included, please do let us know in the comments - we'd love to keep updating this post with characters.)


Maude Findlay, Maude

As the title character of the series, Maude Findlay (Bea Arthur) was probably the most outspoken, upfront feminist of sitcom TV. Running from 1972 - 1978, smack dab in the middle of the women's lib movement, Maude was a Democrat who was pro-choice—she had an abortion on the show, pre-Roe v. Wade—and was a political activist who advocated for gender and racial equality. The show's theme song, "And Then There's Maude," also reflected Maude's feminism, comparing her to strong women in history like Joan of Arc, Lady Godiva, and "bra burners."