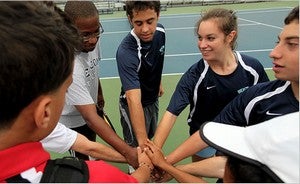 Hannah Berner's high school doesn't have a girls' tennis team, but she still gets flak for playing with the boys. Her story got us thinking about girl athletes who happen to play against the opposite sex, and the strange combination of stereotypes they face.
Berner [pictured, second from right] went 16-2 this season, and helped New York's small Beacon High School sweep the city's three major tennis tournaments. But her opponent aren't happy about a girl demonstrating such prowess. After one of her wins, the opposing coach claimed that the game was unfair "because her gender unnerved her opponents." The coach said that for a boy, playing Berner is "a lose-lose situation. If he wins, he's supposed to win. If he loses, he lost to a girl."
This statement highlights the weirdness of people's reactions to girls like Berner. Traditionally, the rationale for keeping girls out of boys' sports has been that girls aren't good enough to compete with boys. But increasingly, parents and coaches are complaining that girls are too good. Twelve-year-old Jaime Nared was ousted from a boys' team, likely because of concerns that she was outshining the boys (she was later reinstated). And when the Cheetahs, a girls' soccer team, began playing boys' teams, parents got concerned about girls beating their sons.