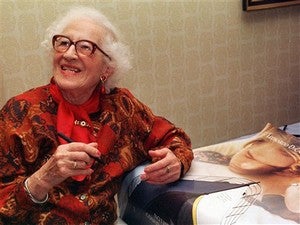 The last Titanic survivor, Elizabeth Gladys "Millvina" Dean, has died at the age of 97. Her relationship with the disaster was a complex one, as she refrained from talking about it until well into her seventies.
Born in 1912, Dean was just two months old when the ship sank. She was traveling with her family to Kansas, where her father hoped to open a tobacconist's shop. But her father did not survive the disaster, and her family's emigration was aborted when they were returned to England. Dean didn't know about any of this until she was eight, when her mother decided to remarry. The last survivor with actual memories of the ship, Lillian Asplund, died in 2006.
Dean avoided discussing the Titanic for much of her life — after seeing the 1958 movie A Night To Remember, she refused to watch any other Titanic-themed films, including 1997's Titanic. But after the wreck of the Titanic was discovered in 1985, she began attending Titanic-themed conventions. When she could no longer pay her nursing home fees, she even sold her mementos of the disaster, including clothes she was given after her rescue, and a letter from the Titanic relief fund. Leonardo DiCaprio and Kate Winslet also promised to donate to pay for her care.