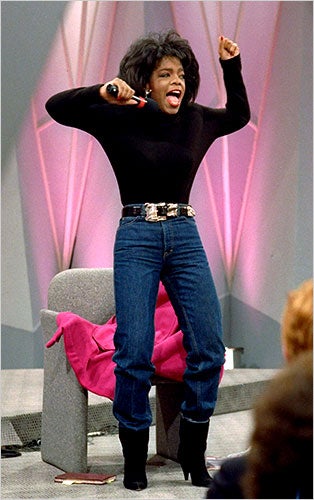 It's almost impossible to turn on the television without being confronted by a celebrity who has chosen to take their weight battles public, as diet plans are always using famous faces to push their products.
Kirstie Alley famously shilled for Jenny Craig. Jenny McCarthy has credited Weight Watchers with helping her lose her baby weight. Marie Osmond has taken time out of her "making creepy dolls for QVC" schedule to push Nutrisystem, and celebrities from Valerie Bertinelli to Oprah Winfrey are currently discussing their weight loss goals on the small screen; all under the guise of "helping other women" who may be struggling with the same weight/body image issues.
But as Jan Hoffman points out in the New York Times, these celebrity weight battles may just be doing more harm than good, as they present the notion that women MUST be thin in order to be considered beautiful. Disparaging comments made by celebrities at their heavier weights often lead viewers to feel bad about their own bodies, as Sarah Morice tells the Times: "I can't believe this is still getting to me. I see what Kirstie Alley says about herself and how easy it is for that to become my script. It's easy to lapse into 'Oh, my body's ugly,' and 'What's the use?' She triggers all those messages for me."
Not only do these celebrities contribute to the notion that thin=healthy and successful, fat=disgusting and lazy, but they also present women with ridiculously unrealistic notions of what it means to be healthy and happy. Oprah has always gotten on my nerves for her approach to weight loss: for Oprah, it's always been about the numbers on the scale, instead of the actual health value. She obsesses so much about getting back to a former size or losing x amount of pounds that she loses the point completely: diets do not, and never have, worked. Oprah's insistence on attaching her value as a person to her weight destroys any messages she may want to give about "getting fit" or "getting healthy," as Oprah still doesn't seem to understand that one can be both without being 115 pounds.
Dodai previously expressed her frustrations with Oprah's weight-loss obsession: "Of course, there's another issue here: Fat-shaming. With those two words, "I'm embarrassed," Oprah makes plus-sized people - and yes, that includes me - feel like they should be embarrassed, too. Because Oprah is amazing, and Oprah knows all. So if Oprah weighs 200 lbs. and is embarrassed then you'd better be ashamed of yourself if you're anywhere near or over that weight, right?"