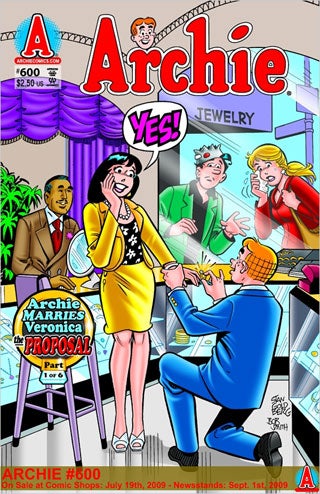 Archie Andrews has finally made his choice. In the upcoming 600th issue of Archie Comics, he will propose to brunette bad girl Veronica, leaving Betty, his sweet, blonde lady-friend, heartbroken. For students of pop culture, the fact that gentlemen actually prefer brunettes should come as no surprise.
The issue, which CNN reports will arrive at comic book stores in August, features Archie proposing to Veronica in a jewelry store and will reveal what happens to Archie and company after they graduate college.
Veronica already blogged about the proposal, saying:
I am so excited, I am getting married to Archie. There is so much to do, so many plans to make. I wonder if Betty wants to be my Maid of Honor? I bet she is so happy for me!
No such luck, Veronica. Betty posted on her blog:
I am so sad, I don't even know what to say.
At first glance Betty, who is described in her online profile as, "completely unaffected, loyal and sweet," seems like the more logical choice compared to Veronica, who is, "very conceited, usually fickle, and extremely flirtatious." But in addition to surveys that indicate more billionaires have brown-haired wives, and most men would rather marry a brunette, a look back through the annals of pop culture shows that the sassy, dark-haired girl is more likely to come out on top than the boring, blonde girl-next-door.