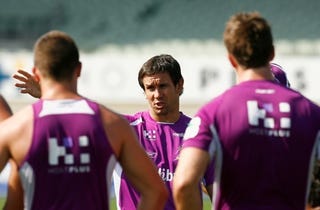 Last week, the media was awash with stories about the so-called "group sex" incident among Aussie rugby players. The scandal has prompted some classic victim-blaming, a good deal of denial, and maybe even some change.
To recap: Last Monday night, the Australian Broadcasting Corporation aired a special segment of their Four Corners television show titled "Code of Silence." The show focused on allegations of sexual abuse brought against rugby players and the dangerous culture of group sex that the sport seems to promote. One victim, codenamed "Clare," claimed that in 2002, she agreed to have sex with two players from the Cronulla Sharks in a hotel room. While she was with Matthew Johns and Brett Firman in their hotel room, about ten other players climbed in through the window and began to join in. In her interview with ABC reporter Sarah Ferguson, Clare made it clear that she only gave her consent to Matthew Johns and Brett Firman. Four men proceeded to rape Clare, while the six other players watched and masturbated, but she was unable to scream or fight back; "I thought I was worthless, and I thought I was nothing. I think I was in shock. I didn't scream," she said.
As we mentioned last week, Clare's ordeal has been grossly misrepresented by the media, which has taken to calling her claim of rape "allegations of group sex." The fallout from the Four Corners interview has not stopped there. Several of Clare's former coworkers have come forward to call her a liar, and accuse her of "gloating" about the incident (she has also been accused of boasting about a three-way she had with several other rugby players the night before the "group sex" with Johns and Firman). As the Daily Telegraph reports, hotel owner John Butterfield said that Clare is no longer welcome at the hotel, although the Sharks are "a great bunch of guys," who can stay anytime. "She told a whole bunch of lies," he said, "It's buggered Matthew Johns' whole life."