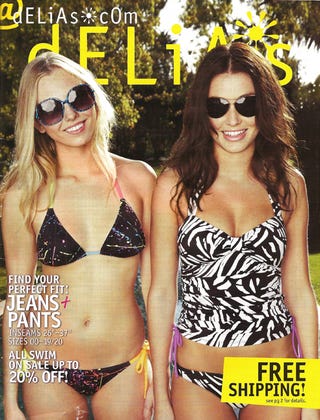 Summer's here, in the sunny, smile-filled pages of the Delia's and Alloy catalogs. Looking for bright, fun, cheap clothes? You're in luck! (Who cares if it's been decades since you were actually a teen?)
I can't get away with tiny animal print shorts, but surely some of you can? Thirty bucks is a good deal!
This long, strapless printed dress seems versatile — whether you're going to the supermarket, to the beach or to a garden party. $50!
Multi-colored denim — matched to Chucks — just makes it seem like the world is full of joy and possibility. Or maybe it's giving me a flashback. The jeans and the sneaks are $50 each.
Loving the poppy, op-art tunic. Pair with footless tights for a mod look! It's $45. the plaid shirt I'm meh about, though it looks great on the model. ($40)
Hmm, plaid dress? Do we likey? ($45)
Four words: Cute, cute, cute cute! That black and white boy-short suit on the lower right is additionally adorbs.
I've written about being a plus-size shopper who plunders the pages of Alloy before; this issue has plenty of items I covet. Starting with the backdrop on the cover… I don't know where it is, but it looks like a vacay. I want to go to there.