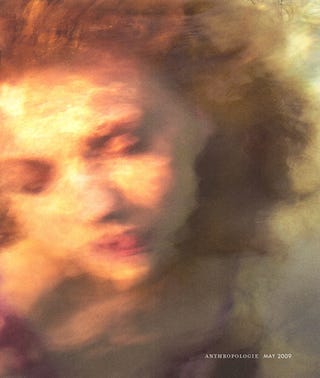 Hey, you know what this recession needs? To encourage us to shop for things we can't really see! That's the message you might get from sopping wet pages of the May Anthropologie catalog:
This is a gorgeous, "editorial" photograph that delights my senses and would make me think of that hazy summer I spent by the lake if I ever did such a thing. As a consumer, though, I just think: I cannot see/understand that dress!!! How do you expect me to pay $168 when I don't even know what the hem looks like?
I've made Virginia Woolf drowning jokes in a catalog post before; now I wish I'd saved them.