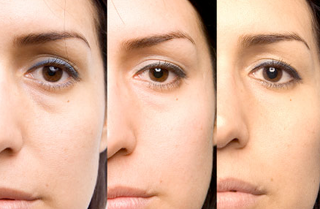 According to a study, women are willing to give up 10% of their savings to look 10 years younger. Of course, the study was conducted by a company called Sustainable Youth.
Sustainable Youth — which makes capsules did the study in conjunction with Kelton Research and found that "one in two (44%) women ages 25-44 would give up one tenth of their savings to look a decade younger forever, compared to 26 percent of those 45 and older."
Do you understand this data at all? It means if you are 25, and you have $500 saved, you'd spend $50 to "look" 15.
Or maybe you're a $35-year-old spending, say, $200 to "look" 25. We live in a world where that happens. Especially with ads like this in magazines:


I keep posting this one because it is so infuriating. The ability to halt time has not been "discovered" in a lab.
Other statistics from the study:

Over two in five (41%) women with a household income of $40,000 or more would give up 10 percent of their savings if it meant they'd look 10 years younger, compared to less than three in ten (26%) who earn less.
More mothers than women without children would give up 10 percent of their savings in order to eternally look a decade younger.
All of this is supposed to support Sustainable Youth's "value-priced" products, but what it actually does is highlight how sad it is that women chase the "anti-aging" dream.
When I posted some of the worst anti-aging ads in existence, one commenter admitted: