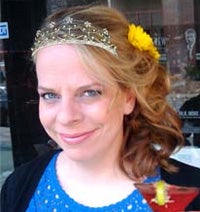 The Chicago Tribune's Nara Schoenberg has a great profile of writer Kate Harding who, in addition to blogging at Salon, has her own fat-acceptance blog where she's happy to tell people to fuck off.
Harding tells Schoenberg:
"Maybe what I'm most angry about is the assumption that we're ignorant," Harding says of fat people (her term). "All these people are saying, you just need to do X, Y and Z. As if we've never thought of X, Y and Z! As if we haven't all tried restricting calories and exercising our brains out.

"A lot of us have lost weight — and gained it back. Everyone thinks that there's a simple solution we've somehow managed to be unaware of. Or we're not aware that fruits and vegetables are better for you than fast food. A lot of these things assume that you're downright stupid or living on another planet."
I have a feeling that some of the lovely women I stood in line with to try out for More to Love feel her on that one.