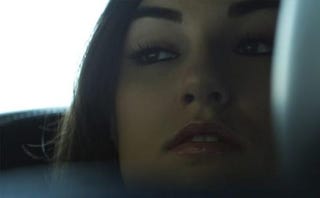 Steven Soderburgh's new film The Girlfriend Experience, which stars adult film actress Sasha Grey, explores how its characters confuse fantasy and reality, and attempts to do the same for its pornography-literate audience members.
The film, which premiered at the Tribeca Film Festival on Tuesday, will be released on May 22 in New York and Los Angeles and on demand on the TV network HDNet. It follows an escort named Chelsea who charges $2,000 an hour to act as a client's girlfriend for the night, providing more intimacy than just sex. (In the film's opening scene, Chelsea and her client are shown at a chic Manhattan restaurant discussing the film they just saw - Man on Wire - going back to his apartment and making out, and then having breakfast and reading The New York Times together the next morning.) The story takes place over five days in October 2008, and is partially improvised by the mostly unprofessional actors, who play versions of themselves, like New York magazine staff writer Mark Jacobson, who plays a journalist, and movie critic Glenn Kenny, who plays an escort reviewer. (Some readers may recall that Kenny served as writer David Foster Wallace's editor and sidekick when the duo attended the AVN Awards for a piece for Premiere magazine.) But the casting choice that has garnered the film so much attention is that the main character is played by real-life porn star Sasha Grey.
At the Tribeca Film Festival, Soderburgh explained that he chose Grey precisely because of her porn persona, The Guardian reports. "With Sasha, you can within seconds see her do anything you can imagine with her clothes off," he said. "What you can't see is what it's like to be her boyfriend, to hang out with her and be emotionally intimate with her. So my whole theory is that's the fantasy for those who've been double-clicking – that they want to spend 77 minutes being her boyfriend."
As Soderbergh put it, Sasha Grey is "not the normal adult film star." Grey is 21, but has appeared in 150 adult films and branded herself as a "new" kind of pornstar since beginning her career at the age of 18. According to the Associated Press, Grey is known for "pushing the boundaries of normal sexual acts," but, "she maintains she's always in control." Vanessa Grigoriadis, who profiled Sasha Grey for the new issue of Rolling Stone explains:
Sasha Grey is the adult industry's reigning princess of porn, a rock & roll 21-year-old with an actual mission statement - "Most of the XXX I see is boring, and does not arouse me physically or visually. I am determined and ready to be a commodity that fulfills everyone's fantasies" - and few taboos.
Grey, who is co-managed by former Jane's Addiction guitarist Dave Navarro (and appeared in the porn film he directed), has modeled for American Apparel, and sung with the reggae musician Lee "Scratch" Perry. She says she is striving to make porn more artistic; Grigoriadis asserts she is changing the relationship between feminism and porn: