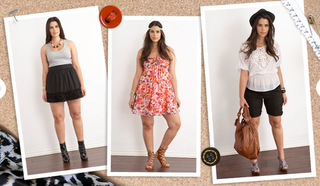 This spring, both Target and Forever 21 are offering plus-size clothes for teens. This, of course, raises a whole host of issues:
First, what is a "plus size"? Forever 21's wretchedly named line Faith 21 (launching tomorrow) offers size XL and XXL. How… inclusive? Target's Pure Energy line will go up to size 30, which seems more like they're making an effort. (The article doesn't mention them, but Alloy.com goes up to size XXXL or 25; Torrid offers sizes 12-26.)
Second, CNN reports that the rate of obesity among adolescents age 12-19 has more than tripled in the last 20 years. So is accommodating plus-sized customers actually reaching out to overlooked teens? Or just a savvy business decision?
Third, and perhaps most important: Do plus-sized lines promote fat? MeMe Roth, president of the organization National Action Against Obesity thinks so: "When you look at the human cost, what we're doing is we're on the Titanic and rather than forcing our children into the lifeboat, we're telling them to join the band. Worrying about fashion rather than worrying about the food is a horrible message that we're sending these kids."