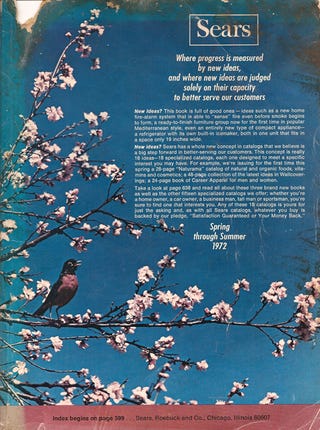 Spring has sprung! And where else do we turn for stylish warm-weather duds than the faded, stained pages of this 1972 Sears catalog? Polyester, nylon and "qiana," after the jump!
The gentleman behind this posse of ladies is clearly intimidated by their matchy-matchy ensembles, which feature "wide ribbed texture." These pieces are made of Dacron™, Fortrel™, and poly-cotton blends. Props for the awesome Afro and the extremely patriotic vinyl shoes.
I love everything about this image, including the Angels & Demons Illuminati-esque red "beach shift," in oh-so-breathable acrylic/polyester knit. But the best part is that the "lobster" is an illustration that was added later. Even before Photoshop there was image tinkering!
Primary colors FTW!
First, I'm fairly sure that if you go to any crafty, hipstery part of town, you can find some version of each of these outfits. Second: Please note that red, white and blue were the colors of Spring 1972. Nixon was president and Watergate didn't break until mid-June, so everyone was all, USA! USA! Third, the red and white anchor pattern on the far right is the exact pattern of the curtains my parents had in their red and white Volkswagen minibus when I was a kid. True facts.
Maybe I am turning into a big old fuddy-duddy, but these swimsuits are so much more fun than the skimptastic ones in Lucky.