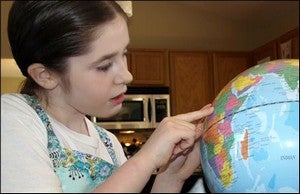 It's hard not to admire eight-year-old anti-genocide speaker Freya Slocumb. But there seems to be a spate of young kids in the public eye lately, and it may not be entirely good.
Slocumb — refreshingly garbed in an un-Bratz-like t-shirt and jumper — can instantly point to Darfur on a globe at a reporter's request. Though she's given three public speeches against the Darfur genocide, and helped sell "sacrifice beads" to raise money for the cause, she's not allowed to see dark for documentary The Devil Came on Horseback, because it's too violent. One of her speeches begins, "I care because I am a young girl and I believe young girls everywhere should be safe."
Her words are affecting, and certainly children should be allowed to stand up for what they believe in. But there's something a little unsettling about young children moving too far into adult realms like book publishing, public speaking, and punditry. Ten-year-old Alec Greven won fame with his book How To Talk To Girls — now that he's on his third book, his success begins to reek of gimmickry. As Jessica noted, his first book isn't actually helpful for talking to adult women, and most of its success probably had to do with the cuteness of a little kid writing a dating guide. Do we really want to make kids' cuteness into more of a commodity than it already is, especially when the most famous cute people — child actors — often have such difficult adult lives?