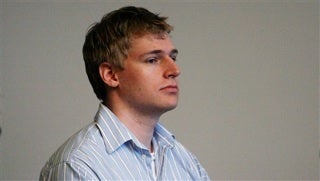 Each day, more information is filtering out regarding Philip Markoff, the 22-year-old medical student accused of being "the Craigslist killer." Most of that information, good and bad, is coming from those who knew Markoff personally.
We live in an era where you can't afford to hesitate: the court of public opinion is swifter and more damning than ever, thanks to our rapid methods of communication, and the accused often find themselves in a weird state of media hysterics, with both supporters and detractors rushing forward to tell their version of an as-yet unsolved story. With each detail released about "the Craigslist killer," the media storm grows, as we are, for some reason, drawn to the darker sides of one another, desperate to know what happened, and how, and if there was anything that could have stopped such a tragedy.
Naturally we begin to cast characters in such a story: here, we have a "clean cut" accused murderer and his "blonde bombshell" fiance, a perfect storm of Lifetime movie scandal, intrigue, and beauty: these educated, seemingly "normal" people, the public exclaims, aren't supposed to be in a situation like this! How strange! How creepy! How do we make sense of such a thing?
It begins with the interviews: Markoff's supporters and detractors quickly jumped in front of microphones, granting interviews and sending emails depicting their view of the alleged killer: his fiance, understandably, continues to send out emails proclaiming Markoff's innocence, insisting that the two will marry, as planned, in August, and move on with their lives. My first reaction to McAllister's emails was one of pity and slight annoyance: I had already decided that Markoff was guilty and creepy, based only on what I'd read, and couldn't understand why McAllister would continue to support him. But when you put yourself in that situation, and imagine how you'd react, if it was YOUR fiance being accused of such unspeakable things, it's a bit easier to understand McAllister's position.