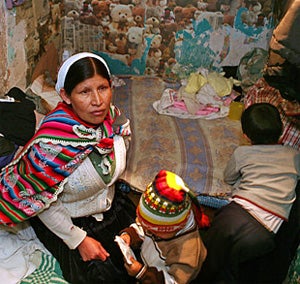 In Bolivia, more than 1,400 children are currently living with their parents behind bars in that country's prisons. Officials and some parents say that given the alternatives, it might be for the best.
One incarcerated woman says this:

"Above all in this life, I am a mother," says [Andrea Virginia] Tapia, who is in her 30s and is the mother of seven kids, four of whom live in the prison with her. (The others live with her mother.) "They are best with me," she adds, as her three-year-old snuggles into her lap, "regardless of where that is."
The director of the penal system agrees.

"We've seen that this is best for mother, or father, and child," says Jorge Lopez, Director of Bolivia's Penitentiary System. "It's important not to rip those bonds between parent and child."
Altruistic sentiments about mother-child boding aside, there are some practical reasons as well.

In Bolivia, South America's poorest country, it's often financially impossible for family members on the outside to take on more mouths to feed. Orphanages aren't feasible, either: "Children live in worse conditions there than in the prisons - and without their moms and dads," says Rene Estensorro, a psychologist at Semilla de Vida (Seed of Life), a non-governmental organization that works with imprisoned mothers and their children. Lopez agrees. Releasing the kids from the prisons, he says, "means [their] direct entryway onto the street."
Like with the children staying with their mothers in both Mexican and American prisons, people worry about the effects incarceration can have on the children.