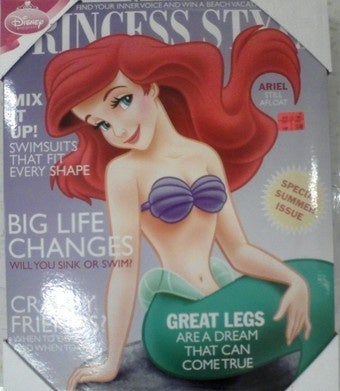 It is hard to have faith that little girls living in America today will turn out okay when these items, being sold at Target, are so deeply and incredibly wrong.
According to the blogger at Sociological Images, these items look like magazines, but they're not. They're framed images meant to be hung on the walls of a girl's room. They blend the tabloidy, ladymag celebrity culture with the Disney brand into the ultimate mindscramble of a fantastical dreamland with no basis in reality pretending to be real.
Ariel, with her impossibly narrow waist, is next to a "cover line" which reads "swimsuits that fit every shape." It's meant to be amusing, but "dress for your shape" stories are often an epic fail in women's magazines. Do little girls need Disney's help in looking forward to that? One of Snow White's cover lines, "Stepmothers: Evil Or Just Misunderstood?" is supposed to be a joke, but what if you're a kid who has a stepmom? Don't even get me started on Sleeping Beauty's line, "Find Your Prince."