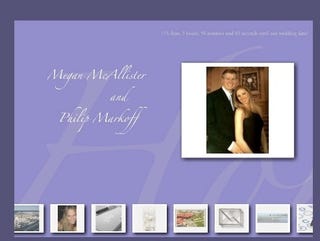 Yesterday, Boston police arrested a 22-year-old medical student accused of fatally shooting a woman who advertised on Craigslist. His fiancée insists, "he could not hurt a fly."
Philip Markoff, of Quincy, Massachusetts, will be arraigned this morning on charges that he murdered Julissa Brisman, 26 of New York City, who was found unconscious with multiple gunshot wounds in Boston's Copley Marriott Hotel on April 14, reports CNN. Police says Brisman advertised her massage services on Craigslist. According to a statement by Boston police, "It appears that there was a struggle between the victim and the suspect in the threshold of the hotel room immediately prior to the shooting."
Markoff is also charged with kidnapping and armed robbery in a separate case involving another woman he met on Craigslist, according to The Boston Globe. Police say he tied up and robbed a prostitute at gunpoint at the Westin Copley Hotel on April 10. Police are still investigating whether Markoff is linked to an incident that took place on April 16 at a hotel in Warwick, Rhode Island, where a gunman tied up an exotic dancer and tried to rob her, but fled when the woman's husband entered the room. The same plastic zip-tie cuffs were used in all three cases, according to The Boston Herald.
Markoff was stopped by police and arrested while driving south on Interstate 95. Though he is innocent until proven guilty, a large amount of damning evidence has been turned over to the press. The man captured on surveillance cameras at each crime scene is shown checking his Blackberry, and police say Markoff's email address and IP address helped identify him.
A portrait of Markoff as "a clean-cut Boston University medical student preparing to wed a blond beauty," as The Boston Heald put it, was quickly assembled from searching online sources like his Facebook page, online class schedule, and a website for his wedding to Megan McAllister, which was supposed to take place this summer.
In addition to the horror of having her fiance accused of murder, Megan McAllister now has to deal with the intimate details of her life being reported in the press. Many news articles commented on her appearance, analyzed the details of her wedding registry, and made jokes about the wedding being off. All of Markoff's personal sites have been taken down, but Gawker posted screenshots of the wedding website, which reveals that the couple were both students at the State University of New York-Albany, and met three years ago while volunteering at a hospital.