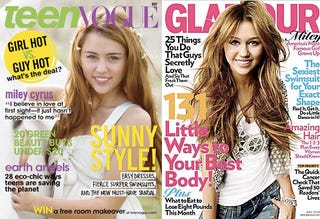 Two Conde Nast titles feature Miley Cyrus this month. In Teen Vogue Miley's a wild child who thinks dating rules are dumb (but doesn't break them). In Glamour the "girl-woman" is openly dating a 20-year-old.
Now that she's reached the ripe old age of 16, it's time for Miley to start making the transition into adult stardom and this issue of Glamour marks the fist time she's appearing on the cover of a women's magazine.
Glamour Editor-In-Chief Cindi Leive tries to make the case for why a minor is on the cover the mag. She writes in the editor's letter:
At 16, Miley Cyrus carries a billion-dollar franchise on her back. Her responsibilities are more adult than those of most adults I know.

That's why, even as a teen, she makes sense as a Glamour cover girl. And she's in good company: Brooke Shields and supermodel Niki Taylor both graced our cover at 15. Looking at those old issues, you wonder, Is she a child? An adult? Believe it or not, Britney Spears had some wise words on the subject when she was a Glamour teen cover star in 2001. "I'm in-between," she said. "I'd consider myself a girl-woman."
Leive goes on to explain that "America holds girl-women to pretty exacting standards," which is probably why in both photo shoots Miley doesn't show much skin. At the Teen Vogue cover shoot she sports natural makeup, a flower wreath, and a sundress while riding a white horse. For the Glamour photo shoot her eye makeup is heavier and darker. She wears a black evening gown as she smashes her guitar and a sparkly mini-dress while clutching a mic. Even though she looks like a woman in her 20s, there's no hint of adolescent sexuality that people freaked out about in the Vanity Fair photo shoot.