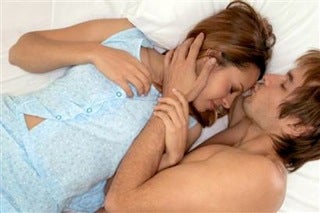 According to Leslie Goldman of Women's Health, couples that create their own romantic language, complete with annoying voices, code words, and stupid nicknames, have a better chance of being satisfied with their partners. Schmoopie, schmoopie!
"Using nicknames and made-up language is an easy way to inject positive communication into everyday life.. In fact, it's probably the single easiest thing you can do to keep your relationship going strong," claims Jamie Turndorf, PhD, a relationship therapist. The bond created by developing a private language gives couples the sense that they are closer to each other than anyone else, thereby creating a sense of true intimacy.
My fiance and I have stupid nicknames for one another, but over the past 10 years, we've developed the ability to keep our dumb language private: as SNL showed us last night, there's nothing more annoying than couples who turn on the baby voice and the stupid nicknames in front of their friends. Perhaps your private language makes your relationship with your significant other stronger, but trust, if you pull that shit out in front of your friends, you might just be weakening the bonds of friendship, as nobody wants to hear you suddenly raise your voice 8 octaves and whisper sweet nothings to "Pancake" "Bean" or "Snookie."