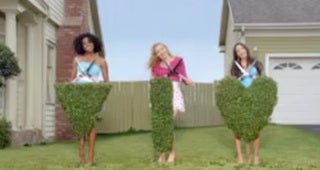 The folks at AdFreak brought these Schick Quattro ads to our attention, wherein the ol' pubic hair/bush connection is used to maximum effect in an attempt to sell lady-razors. "It's time to mow the lawn!"
But still: why can't we just have a product for women that isn't advertised beneath a layer of happy bird singing, tulip sprouting, pastel-wearing, Stepford bullshit? Nobody gives a shit about the happiness your pube shaving gives you. Nobody wants to go to dinner with your annoying doctor friend who won't shut the fuck up about the side effects of Yaz. Nobody wants to have a happy fucking period. Nobody needs to hear about how unwomanly you feel when you have to wear your gray hoodie because you aren't using Vagisil. And nobody needs to hear that when you're "feeling untidy" you "spruce up your Aphrodite." Why can't we just be straightforward about products for women? We all use and need these things; why can't we just be as obvious about personal hygiene products as men are? "You need this because it does this and it's effective at this, the end." Is a cartoony musical really necessary? I think not.
So what say you, commenters? Offensive or effective? Or perhaps a bit of both?
Schick Quattro Helps Women Trim The Bush [AdFreak]