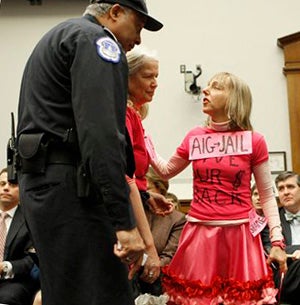 Code Pink was a protest organization founded by Medea Benjamin to encourage (mostly) women opposed to the wars in Iraq and Afghanistan to make their voices heard by politicians and the media. Times have changed. Now?
They're still opposed to the war, and to campus recruitment, to the Israeli bombardment of Gaza and to the bail-out — the big issue of the day — and basically anything else that gets their faces on TV. Benjamin argues that having a continued media presence by chasing the issue of the day around Capitol Hill hearing rooms allows them to get more attention for their signature issue — the wars. Other people disagree.

Ivan Eland, director of the Independent Institute's Center on Peace & Liberty, thinks that the anti-war group, and some others like it, suffer from the nonprofit version of the bureaucratic politics theory, "where the organization becomes the end goal."
In other words, the goal isn't to change anything in particular, it's to continue to be able to protest things. Even Congressman Barney Frank — a vocal anti-war advocate himself — is sick of their shit and told them so in a hearing they interrupted last week.

In the manner of a had-it-up-to-here schoolteacher, Frank told the activists to "act their age."

"I do not know how you think you could advance any cause to which you might be attached by this kind of silliness," Frank said.
Benjamin thinks this was awesome, because it got her all kind of right-wing radio time where she believes she made allies. Right-wingers disagree.

"They haven't changed," [Erick] Erickson [of RedState.com] said of Code Pink. "They still hate America. Which is why they won't get any conservative support. They're against the bailout because they hate capitalism."
Some allies. Even self-described liberals are done with the pink protestors.

"Code Pink has never been more than a nuisance - an ineffective, self-indulgent, obnoxious and tone-deaf organization," said Daily Kos founder Markos Moulitsas.

"It was never relevant before, and it certainly isn't relevant today," Moulitsas said. "I'm sure their antics make them feel good about themselves, make them feel as if they're accomplishing something, but in reality they've done nothing but piss off everyone around them, including potential allies."
Of course, it was a blogger on Moulitsas' eponymous site that originated the shitty untrue rumors about Trig Palin's "true" parentage and he used to have a days-long conference for liberal bloggers named after himself, so he might know something about being self-indulgent and tone-deaf.