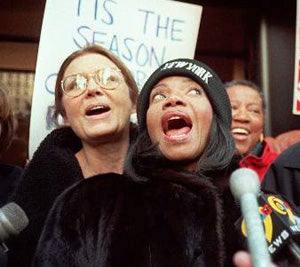 Courtney E. Martin has called for an end to the idea that there is but One Feminist Movement, and one way to be a feminist, and one small set of feminist issues. Thank goodness.
She says:

[Some second wave feminists] spoke longingly about the exuberant past, characterized by abundant energy and "sisterhood." They lamented that no locatable movement exists anymore, that no one is organized, that no one is out in the streets. At one point, Broner even admitted, "I interpret everything through that time."
Oh, wait, I think both Courtney and I have heard this before, from one Debra Dickerson. Apparently, it's not just Debra who wonders where all the angry, yelling feminists who got things done have gone. Courtney has an answer, though.