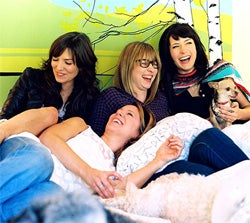 The New York Times' Deborah Schoeneman spent some time with screenwriters Lorene Scafaria, Dana Fox, Liz Meriwether and Diablo Cody, who work, play and support each other in the face of Hollywood and haters.
Dubbing themselves "The Fempire," they spend their days writing, bouncing ideas off of one another and then carousing around L.A..

Whenever one of them has a movie opening, they all rent a white limousine and go from theater to theater to watch the first audiences react.

"We're usually drunk by the third theater," Ms. Cody said. "It's super porno and tacky, and we love doing it."
That probably has a lot more to do with the company than the movies or the hooch.
But being talented, attractive and successful has its pitfalls — as Dodai once noted — in the form of (mainly anonymous) people who hate you and try to eviscerate you for no reason other than what they've read about you on the Internet or, more likely, the talented-attractive-successful thing. And that's what you have friends for.