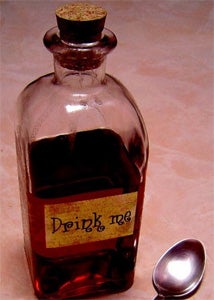 Women have been using alternative methods to end unwanted pregnancies for hundreds, if not thousands, of years. Some high school girls in rural Wisconsin have been using veterinary medicines, and the right blames medical abortion.
The drugs [intended to abort livestock], kept on farms for management of livestock under the names Prostaglandins, Cystorelin, Factrel, Gonadorelin or Lutalyse, were being ingested orally in large quantities, even though animals are treated by injection, the alert said.
The school nurse and the American Animal Hospital Association verified that this was going on. But rather than blaming this on a lack of access to or education about contraception or safe and legal abortions, it's all about how the pro-choice movement has suddenly convinced women that this is safe (as though women weren't unsafely ending their pregnancies 40 years ago).

"What kind of world have we created for these girls that they're drinking poison and risking death in these modern-day back-alley abortions, rather than bear their child in love," asked Judie Brown, president of the American Life League.
Um, maybe one in which girls aren't given the access and education they need to prevent pregnancy in the first place or options to allow them to live their lives in the manner of their choosing if they do choose to remain pregnant? That would be my answer, but Judie's got a different one:

"We are currently in a meltdown situation with regard to the kinds of communication parents are having with their children," she said. "The parents no longer are truly in charge of their children. They have surrendered control to the public school system."
Well, if they'd turned all control over to the public school system and that system wasn't being interfered with its education duties by a bunch of Krispy Kreme-hating fundamentalists, maybe their daughters would know how to prevent pregnancy.