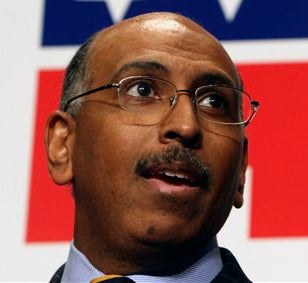 RNC Chairman Michael Steele is tussling with the right-est of the right-wingers today for daring to acknowledge in a new GQ interview that women currently have the right to choose an abortion.
Steele, who is adopted and is a former Catholic seminarian, has what he calls some pretty strong views on the subject. Early in the interview, he says:

We are a party that values life, born and unborn.
Sounds pretty clear, right? He delves deeper into that later:

How much of your pro-life stance, for you, is informed not just by your Catholic faith but by the fact that you were adopted?
Oh, a lot. Absolutely. I see the power of life in that-I mean, and the power of choice! The thing to keep in mind about it… Uh, you know, I think as a country we get off on these misguided conversations that throw around terms that really misrepresent truth.

Explain that.
The choice issue cuts two ways. You can choose life, or you can choose abortion. You know, my mother chose life. So, you know, I think the power of the argument of choice boils down to stating a case for one or the other.
Now, keep in mind, one of the advertising slogans of the anti-abortion movement is "Choose life." The entire premise of the now-infamous CatholicVote commercial about Barack Obama is that his mother chose to not have an abortion. The Republican party and the anti-abortion movement seeks simultaneously to eliminate that choice and to convince women not to choose abortion until they succeed in eliminating it (hence with the crisis pregnancy centers and the clinic protests and the guilt-tripping).