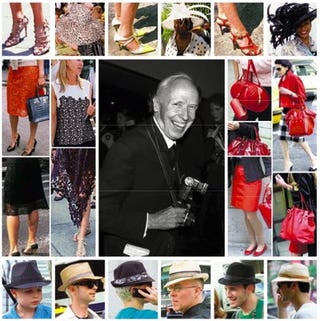 Before there was the Sartorialist, before there was Garance Doré, before Tommy Ton and the Face Hunter, way back before anyone thought to put the words "street" and "style" together, there was Bill Cunningham.
The Boston-born Cunningham started shooting street fashion in 1966, when a photographer friend of the young fashion journalist gave him a $35 camera and advised him to use it like a notebook. Captivated by the New York's clothing soup him ever since, Cunningham has photographed a weekly "On The Street" fashion column for the Sunday Styles section ever since a couple good shots of Greta Garbo's nutria coat caught the section editor's eye in 1978. Cunningham has a passionate, discriminating, but stubbornly democratic love of fashion. He's as likely to be captivated by the turn of a workman's trouser cuffs as he is by the twist of a Balenciaga heel; despite a lifetime spent working in the industry, starting off as a stocker at Bonwit Teller, Cunningham retains an outsider's eye. He loves shooting on 5th Ave., where he says you can see the whole world go by, if you're patient enough. But he's been known to get on trains to go clear across the city if he thinks he's missed a shot that'll fit with his week's theme.
Lauren Collins, who profiled Cunningham in this week's Style issue of the New Yorker, reveals that the photographer, who turns 80 this month, lives alone in the Carnegie Hall Tower. He sleeps on a piece of foam that tops a board propped up by milk crates, and has access to a shared bathroom and kitchen. He is most often dressed in a utilitarian blue cotton smock — like those some garment workers still wear, with thimbles and embroidery scissors in the pockets and needles holding many colored threads in a row down one sleeve — and he generally gets around town on his red bicycle. When he travels to Paris, his editor at the Times, Trip Gabriel, reports that Cunningham "insists on staying at a cheapo hotel that has no phones in the rooms." He takes all his pictures with a well-used Nikon; in the years since the Times photojournalism department went digital, Cunningham has processed his film at a 1-hour photo lab on 43rd St.
Cunningham is a quiet man who works in the loud, twinned industries of fashion and media. But what captivates him is still the simple aesthetic joy of noticing what people wear, and identifying commonalities. "I don't really see people — I see clothes," he says. And he has little patience for the sky-is-falling rhetoric of America's allegedly faltering style. "People say everybody's a slob. Ridiculous! There are marvelously dressed women you see at a quarter to eight, going to business. When people say fashion is no more, they're ridiculous! It's as good as it ever was."