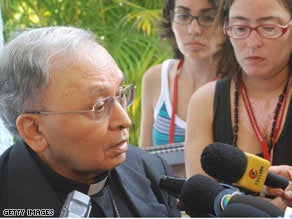 Although the Catholic Church is standing strong with the decision to excommunicate the Brazilian medical team that performed an abortion on a 9-year-old rape victim, many have come forward with dissenting opinions.
On March 4th, a medical team from Recife, Brazil, performed an abortion on a 9-year-old girl. She was pregnant with twins after being raped, allegedly by her stepfather. Police say that the abuse had been going on since she was 6. Abortion is illegal under Brazilian law, but it is possible to get a judge's approval in cases of rape or when the mother's life is in danger, both of which applied in this case. The girl's doctors, her family, and the court were all in agreement that this was the safest way to deal with the pregnancy. The Catholic Church disagreed.
Archbishop Don Jose Cardoso Sobrinho (seen above left) swiftly excommunicated the entire medical team, along with the the girl's mother. Church law exempts minors from excommunication, so the girl was not included in the blanket condemnation of the medical procedure. They also chose not to excommunicate the stepfather. Sobrinho told Globo TV that "A graver act than (rape) is abortion, to eliminate an innocent life." As Hortense mentioned over the weekend, a senior Vatican official has spoken out in support of Sobrinho's actions, and said: "Life must always be protected, and the attack on the Brazilian Church is unjustified."