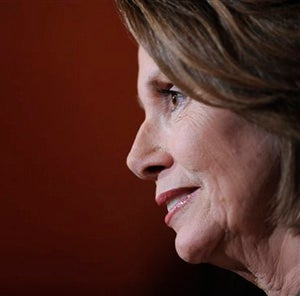 Heidi Brown with Forbes and Jo Craven with The Times of London have totally identified the newest trend of this recession: women heading back to the workforce after leaving to stay home with the kids.
Brown writes that the recession is just the excuse for women who, having been used to the 9-to-5, now find themselves somewhat unfulfilled by the 24/7 of diapers, feedings, potty trainings and nap times:

For some women, the recession is a time to clear up ongoing dilemmas and regain independence. For others, it's a time of survival.
See, all those ambivalent feelings that you might have had about personal fulfillment, childcare guilt and staying home, there's no reason to work them out in long conversations with your life partner and/or therapist. Just blame the recession and go do what you wanted to do the whole time!

"These women were struggling with their identities because they weren't working," [Amy Keroes editor of Mommytrack'd] says. But now, she adds, "I think 'having to' has made it easier for lots of women who were already struggling with whether to return."
Just, um, don't think that much is going to change, other than your bank account:

Adding more stress: As women work more to make up for loss of income or employment by a partner, there are more challenges at home. The biggest is how to divide domestic responsibilities when suddenly it's the woman who's working and the man who's at home.

In part, that's because many men see their job as finding another job, says Keroes. With working women still doing 70% of the housework, there's a lot of room for conflict.
Of course, women like Nancy Pelosi (and my own mother) have been moving in and out of the workforce as it suited them for years, and financial pressures were one of many reasons they chose to do so. But the idea that women need an "excuse" like the recession to take their places in the workforce makes me wonder who exactly they are justifying it to — and the Forbes piece is far from clear.
Jo Craven takes a slightly different tact on the same back-and-forth: women who left the workforce to stay home with children are now envying the women who stayed in it.

Just a short year ago, "working-mother envy" would have sounded highly unlikely . Now we're adjusting to a world that shifts on its axis every other day, where decisions we once deemed everyday choices are transformed into luxuries for the super-rich.
Yes, staying at home with your children is now a luxury for the super-rich, and not something that women and men often had to sacrifice to achieve (see: my parents) because they felt it was the right thing to do.

While it was once the working mother who struggled with the guilt as she swapped purées for presentations and made the daily dash to nursery with a weeping Archie and/or Ruby under her arm, now it's the stay-at-home mother who has to justify her choice, struggling with the new guilt of not being equipped to protect her offspring financially from an uncertain future, let alone pay for the flute lessons.
Because money eliminates uncertainty, and flute lessons are the be-all, end-all of a child's life. I mean, just because Laura Bennett thinks they are doesn't make it true.