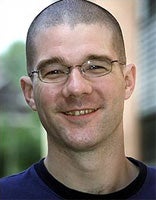 Newton Emerson is a known satirist and a touch conservative and, as I know too well, sometimes satire flies over people's heads. That probably explains Louise Livesey's rant about Emerson's article on The F Word.
The problem, such as it is, is that too often women read crap like this from people who are actually serious so, in a vacuum, it seems almost realistic that someone would actually believe stuff like this:

Of course there will always be a place in the world of business for exceptional women. Women also have an important role to play in jobs that are too demeaning for men, like teaching. But the general employment of women is another matter. Indeed, working women almost certainly caused the credit crunch by bringing a second income into the average household, pushing property prices up to unsustainable levels.
Pick a right-wing, "traditional values" anti-woman conservative, and it's just a little too easy to imagine something like that coming out of his mouth.
Newton then "suggests" that the cure for unemployment and government spending is twofold: eliminate many women's jobs and eliminate most women from the work force. Consider the issue of unemployment.

There were 221,301 men on the live [unemployment] register last month and just under one million women in work.

Surely at least half these women have a partner who is earning? Surely at least half would be happier at home? One half of one half is a quarter and one quarter of a million is roughly 221,301. I think we can all see where this argument is going.

It would be ludicrous to suggest that women should be sacked purely to give men their jobs. In many cases, their jobs should be abolished as well.
It's the shotgun marriage of traditional gender roles and the conservative desire to reduce the size of government at any cost! It's practically the right-wing political platform!
But if you hadn't caught Emerson's tongue stuck firmly in his cheek yet, he then cites supposed statistics from the "Center Gender Mainstreaming Unit" — which, naturally, doesn't exist (except in the Philippines).

Further benefits of sacking women have been uncovered by the Central Gender Mainstreaming Unit at the Department of Justice. According to its research, twice as many woman as men travel to work by bus and train, potentially halving the impact of cutbacks in public transport. However, it is probable that three-quarters of the Central Gender Mainstreaming Unit's staff are women, so these figures should be taken with a pinch of salt.
So what, exactly, is Emerson satirizing besides himself and other conservatives? The idea that men, and men alone, caused the worldwide financial crisis.