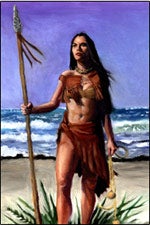 According to a recent survey, Obama has beaten out Jesus as America's most admired person. Sadly, but unsurprisingly, the top ten heroes were nearly all men, with Mother Theresa coming in at #10.
The extended list is woefully devoid of women, too. While George W. Bush shockingly rang in at number 5, beating out Abraham Lincoln – ranked 6 - and God (11), Hilary Clinton appeared down at number 12, and Condoleeza Rice at 19. On a list of 23, only five were women (the other two: 20. Oprah Winfrey and 21. Sarah Palin). In previous years, Princess Diana made the cut, as did Eleanor Roosevelt and Venus Williams. When asked: "who do you admire enough to call a hero?" a cross-section of Americans unfortunately thought of mostly men. And although many of these men are worthy of our admiration, we have to wonder, where are all the heroines?
We've addressed the shortage of women on quite a few lists before, from writers everyone should read, to Rolling Stone's 100 greatest singers. We've even celebrated our recently deceased heroines. Unfortunately, in this case there is not one author we can blame. It seems that Americans in general are too hard on women, and would rather idolize the worst president in history than activist Del Martin (yes, I know she is not as well known as Bush, but she is certainly more deserving) or Michelle Obama.