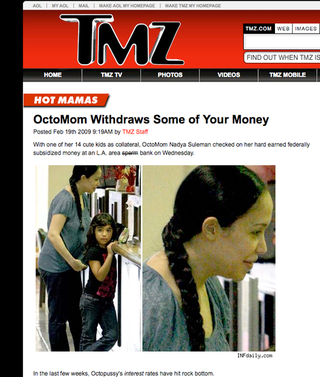 According to the Independent, TMZ is one of the most popular celebrity websites (third behind People.com and Yahoo's OMG). But, in the words of Alec Baldwin, TMZ is a "cesspool."
Unlike some mean-spirited low-rent blogs, TMZ, which some readers will recall made our Missdemeanors column quite often, is owned by megaconglomerate AOL. This means that they have the money and the manpower to post frequently, and to post "exclusives" — which are often just videos in which a cameraman approaches a celebrity. Oh, sure, they broke the Christian Bale rant, and the Miley Cyrus "goofy" pic. But a recent post involved some dude asking Drew Barrymore who is hotter, Washington or Lincoln. She - and rightly so - ignored him.
While TMZ is fairly ruthless and engages in sniping on male and female celebs alike, they most certainly take exquisite pleasure in body-snarking female stars: declaring that Naomi Campbell has "pancake bosoms"; a "Celebrity But-Her-Face" slideshow; galleries of cleavage images.