Oh god: on last week's Toddlers & Tiaras, we saw more "sexy" babies, and discovered that being obsessed with parading girls around like they're hooker Barbies will actually make your face look insane. (See left.)


The girl featured in the clip above is Karlee, who takes great pride in being a "girlie girl."




She's a typical pageant robot, in that she's been programmed by her mother on what to say and how to walk, except that she doesn't do either of these things as convincingly as other humans. However, she comes alive when she taps into her, um, flirty side. (Actually, "sexual" is a more accurate adjective than "flirty," but I don't want to come off as inappropriately as she does, considering she's seven.)
For example, she says, "I want to be a cheerleader, because I like to show my belly. That's what they do."

She also stares at herself in the mirror, doing "flirty" poses, saying "I look goooooood."

That, coupled with this evidence from her talent performance, indicates that she'll probably do well, socially, at a school with a Greek system. She's gonna kick ass at keg stands.

She argued with her mother to be allowed to throw some "flirty" moves into her swimsuit competition walk, even though the judges didn't want the kids to be flirty during the swimsuit portion. (Eyelashes, fake tans, hairpieces, and fake teeth were cool with them, though.)

In Karlee's case, it's definitely age inappropriate, but it turns out that it's just as unsettling in grown women as well.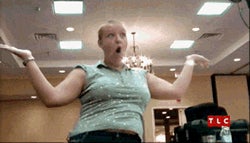 Basically Karlee's hyper "flirty" behavior made me (and probably this carpet) very uncomfortable.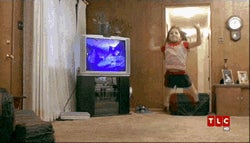 It also makes Karlee's 12-year-old sister uncomfortable. According to Karlee, her sister, ""is not a girlie girl. She doesn't like wearing makeup or dresses or none of that stuff." She plays softball.

Karlee's mom also talked about her older daughter's enthusiasm for softball, saying, "She loves softball. She lives and breathes it." And she made this face while saying it.

Speaking of softball…

For the second week in a row on this show, there were lesbian pageant moms. Unlike the last couple, who publicly referred to one mom as an "aunt," these two are out , proud and married.