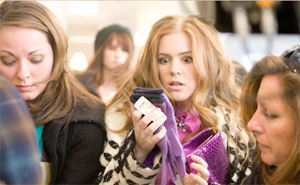 See that look on Isla Fisher's face? That's the look I have right now, as I am about to watch Confessions of a Shopaholic with a shitload of popcorn and a flask of rum.
















You see, I pretty much hate chick flicks. All of 'em. The last one I saw was Music and Lyrics, and I went to a matinée in disguise because the combination of Drew Barrymore, Hugh Grant and bad 80s pop icons was too much for me to resist. I mean, really:
You can tell I'm avoiding, can't you? Well, so, this idea was hatched over wine with Racialicious' Latoya Peterson after she sucked it up and, like Dodai, went to see He's Just Not That Into You. She was not a fan, and we're both snarky, so we're in this one together. I've never read the book(s?), and I've seen the trailer a sum total of 3 times, but I'm already scared.