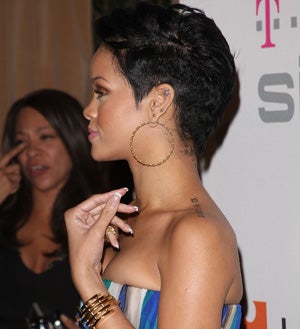 Charlotte Hilton Andersen at the Huffington Post wrote a moving, interesting open letter to Rihanna about what she can expect if she chooses to deal with the criminal "justice" system. Sadly, it's what you'd expect.
What is striking about what Andersen writes is not that it's a grand tour of all the many, many fucked up things about our system of supposed justice for female victims of violence in this country, but that she opens up that hers, too, came by way of a partner.

I have been a victim of dating violence. And I did what only about 5 percent of victims but 100% of feminists say to do: I pressed charges and took my boyfriend to court, eventually sending him to prison for felony sexual abuse.
Do you sense that little bitterness? That comes from doing what you're told is the "right" thing that ends up feeling so wrong for so long. Having done the "wrong" thing once and the "right" thing once when it came to my sexual assaults, I'll sack up here and admit that Andersen's story sounds uncomfortably familiar and equally fucked up.