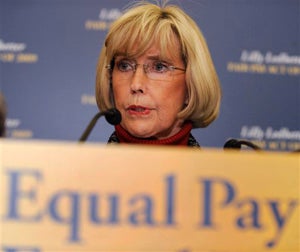 In 2005, economists noticed that the last recession (in 2001) helped reduce the wage gap between men and women to the lowest level in decades. What will this recession do for women?
Well, according to Catherine Rampell's New York Times article today, it might well make the U.S. labor market majority-female for the first time ever.

Women are poised to surpass men on the nation's payrolls, taking the majority for the first time in American history.

The reason has less to do with gender equality than with where the ax is falling.The proportion of women who are working has changed very little since the recession started. But a full 82 percent of the job losses have befallen men, who are heavily represented in distressed industries like manufacturing and construction. Women tend to be employed in areas like education and health care, which are less sensitive to economic ups and downs, and in jobs that allow more time for child care and other domestic work.
With more and more men losing their jobs, women are becoming majority- or sole-breadwinners in even two-adult households. The question that remains, though, is who is washing the dishes these days.

While women appear to be sole breadwinners in greater numbers, they are likely to remain responsible for most domestic responsibilities at home.

On average, employed women devote much more time to child care and housework than employed men do, according to recent data from the government's American Time Use Survey analyzed by two economists, Alan B. Krueger and Andreas Mueller.

When women are unemployed and looking for a job, the time they spend daily taking care of children nearly doubles. Unemployed men's child care duties, by contrast, are virtually identical to those of their working counterparts, and they instead spend more time sleeping, watching TV and looking for a job, along with other domestic activities.
I guess more the things change, the more they stay the same!
Of course, there remain questions about the gender equity of the stimulus plan, which is intended to create jobs in industries that are shedding them — which, as Rampell points out, are most male-dominated. Jennifer Barrett at Slate thinks, like Linda Hirshman, that this could be a bad thing, but there aren't easy solutions. Barrett says: